Yoga For Stress Relief
March 15, 2020
@
11:30 am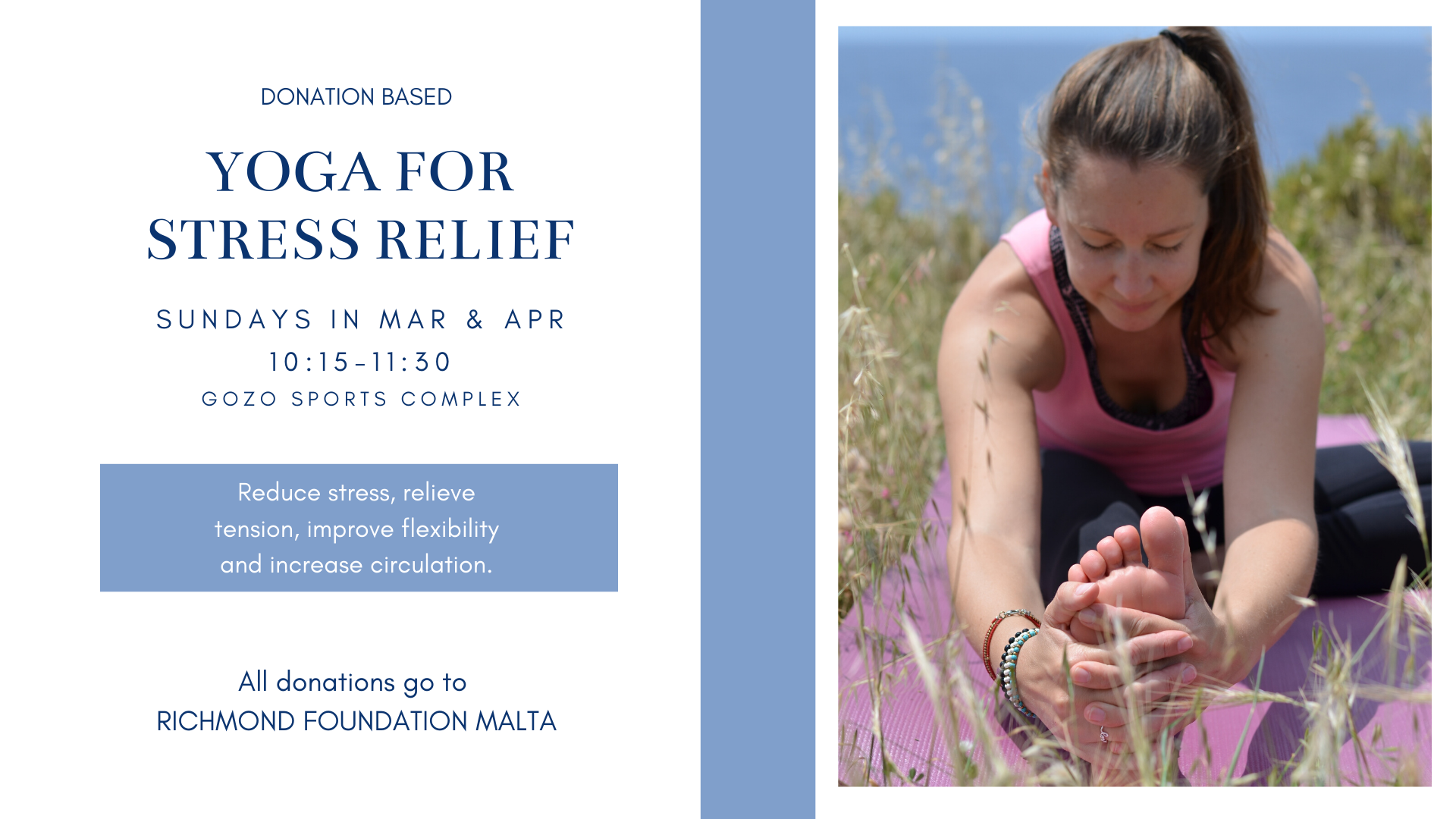 Join us for 5 donation based 'Yoga For Stress Relief' classes on Sunday mornings in March & April. All donations go to Richmond Foundation in Malta. Organization that supports people experiencing mental health problems and those around them.
IS THIS CLASS SUITABLE FOR ME?
If you're trying to find healthy ways to manage the challenges of daily tension and stress, then this class is great for you. The gentler and slower nature of this class is suitable for everyone, all ages and abilities – no previous yoga experience is needed. This class will help you quiet the mind, clear energetic blockages, improve circulation and promote overall wellbeing and growth.
WHAT CAN I EXPECT?
The class usually stars with a short meditation and pranayama (breathing exercises) followed by a mix of moving and static, longer held poses supported with props. Class ends with a short final relaxation to let the body soak up all the nutrients of the practice.
WHAT TO BRING?
Yoga mats, blocks, cushions and blankets will be provided.
However, it's highly recommended to bring your own pillow(s), blankets or any kind of props needed in order to maximize your comfort and get the best out of this practice (comfort is KEY here!). Dress comfortably and in layers – we want to stay warm throughout the practice.
DATES
15th & 22nd March
5th, 19th & 26th April
BOOKINGS
Space is limited so bookings are ESSENTIAL. Send me a message to reserve your spot.
PRICE
€5 suggested donation with all donations going to Richmond Foundation in Malta – organization that supports people experiencing mental health problems.
If still unsure or you have more questions about this practice, please feel free to contact me and I'll be happy to answer them 🙏🏼